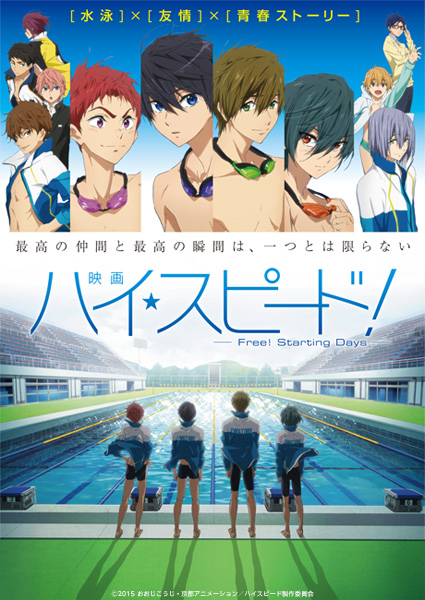 Official Website
Information
Touching and feeling water has always had a special meaning for Haruka Nanase.
At the last championship during elementary school when he swam in the medley
relay with Makoto Tachibana, Nagisa Hazuki and Rin Matsuoka,
he could achieve a NEW PERSPECTIVE HE HAD NEVER SEEN BEFORE.

In a new Spring season under the fully bloomed cherry blossoms,
Haruka and Makoto enter Iwatobi Junior High School and start their new school life.
They decide to join the swim club at their school but are unwillingly united with
Asahi Shiina and Ikuya Kirishima in the same medley team.
They aim to swim in a championship.

These four boys are quite different when it comes to their thoughts and intentions...
they also each have their own concerns.
Therefore, even though they keep on training over and over as a team,
their teamwork never takes shape.

What is necessary for them to become a "TEAM"?
What is Haruka thinking in this new situation with his heart still in the medley relay of the past?

In this film, they come to know each other little by little and become more aware of themselves through swimming.

Now devoting their time and youthful energy to swimming, their bright future starts here.